KNOW HOW TO GET OUT BEFORE YOU GET IN
Provision's appraising tool uses live market data to find the exact used vehicle pricing information franchise dealers need to make the most profitable bid. Its retail-based approach tells you exactly what a specifically equipped vehicle will sell for in subprime, retail and wholesale markets — and how fast — so you know exactly what to pay to make a profit.
Provision's Tools for Franchise Dealers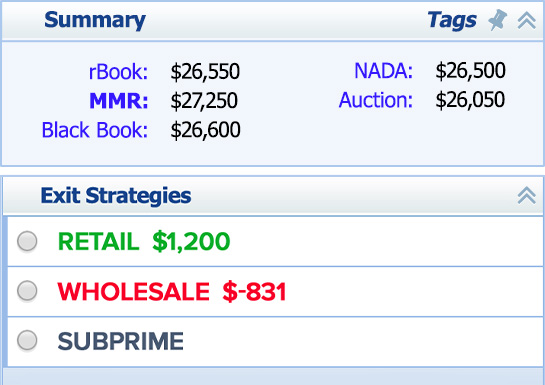 Used vehicle valuation
vAuto's AutoMatch™ Technology compares vehicles by exact equipment — not just by VIN or trim — so your appraisal can account for every aspect of every car. Access to leading vehicle history reports, including CARFAX® and AutoCheck®, provides deeper insight into a vehicle's worth. And the powerful rBook™ valuation tool lets you see real-time prices of identically equipped used vehicles in your market, so you'll always know exactly what a vehicle is worth.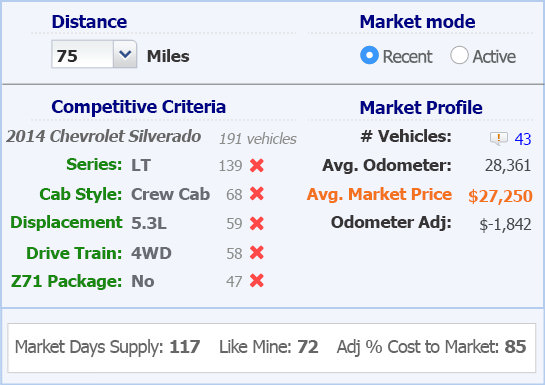 Market-based positioning data
Know what every used vehicle in your live market is selling for — so you can always buy at a price that makes you profitable. vAuto automatically assigns every appraisal a vRank, which reports its competitive position in your live market based on price and value in Internet search results.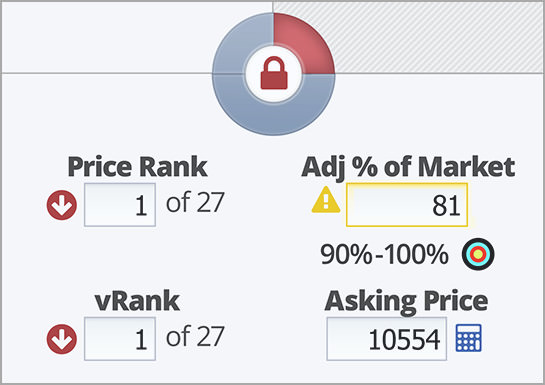 vSquare functionality
Fine-tune every used vehicle appraisal to find the perfect balance of competitive pricing and profit margins. vAuto's dynamic four-square functionality automatically calculates the effects of proposed changes in appraisal amount, profit objective, price rank and real-time market position. As you work the deal, you can always stay on the money.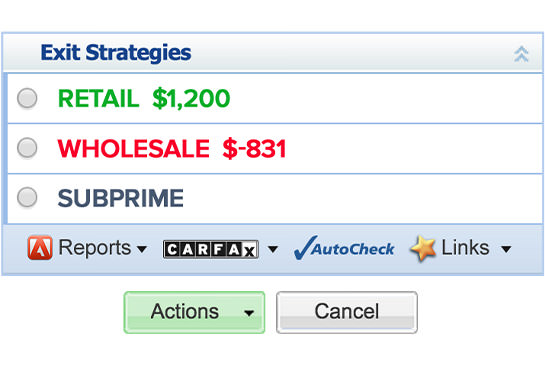 Multi-out technology
Find the most profitable exit strategy for every used vehicle before it ever enters your inventory. Provision's multi-out technology assesses each vehicle's subprime, retail and wholesale potential during the appraisal process, so you can plan for success from the beginning.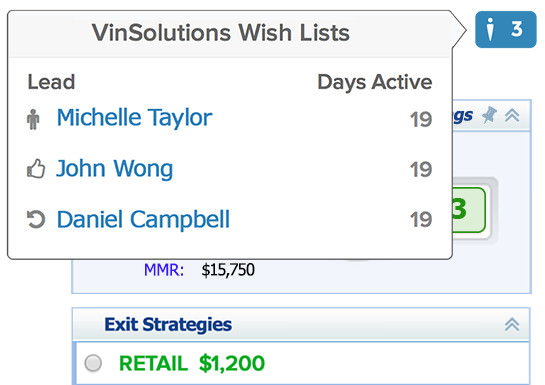 Powerful integration
Trade-In Marketplace integration gives you the guaranteed wholesale value for any vehicle before you buy it. And integration with VinSolutions CRM technology tells you which buyers are looking for a specific used vehicle before you make an offer, so you can make targeted appraisals and earn more profit.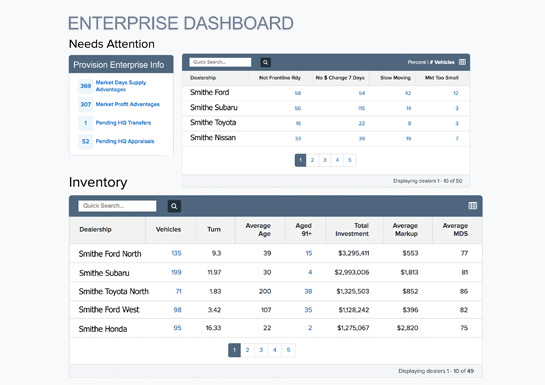 Group-level insights
Provision® Enterprise upgrades your Provision capabilities from the store level to the dealership group level. A holistic view of inventory helps identify opportunities for inventory reallocation. Centralized appraising adds efficiency. And robust reports make it easier to position each store for success. Learn more about Provision Enterprise >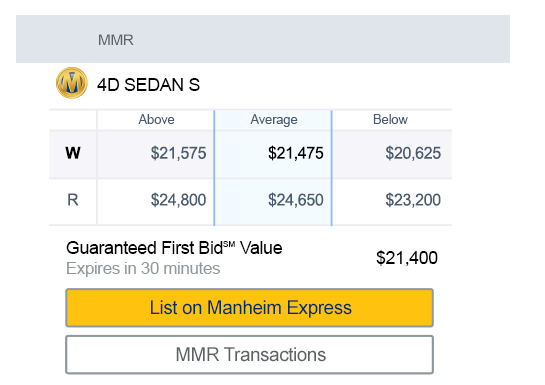 Manheim Express℠ integration
With the latest wholesale mobile app, Manheim Express, you can gain new insight into a car's potential value at auction. Manheim Express offers a Guaranteed First Bid℠, an assured price for your car if it doesn't sell in 48 hours. You can quickly submit inventory to the Manheim Express auction with a tap of a button — straight from the Provision appraisal screen. Learn more about Manheim Express >
Download the Provision Brochure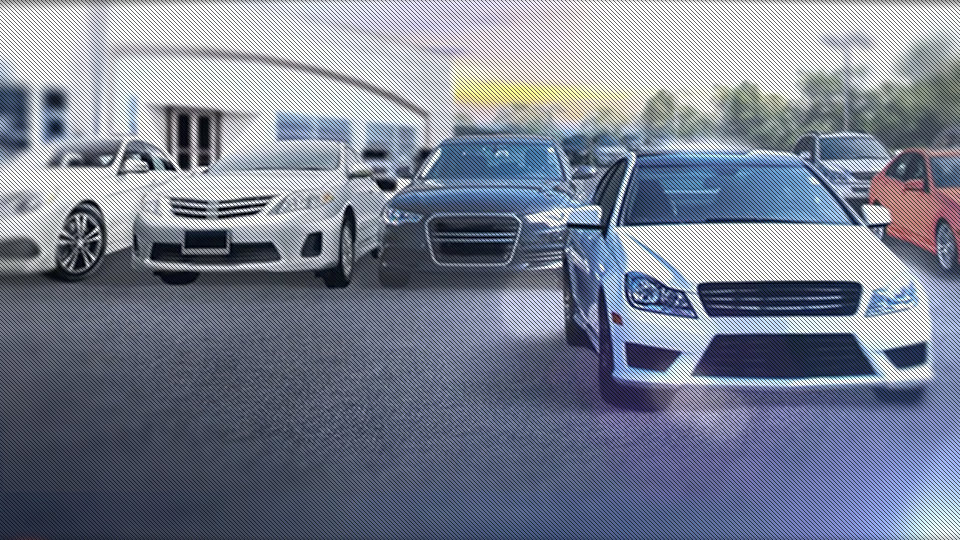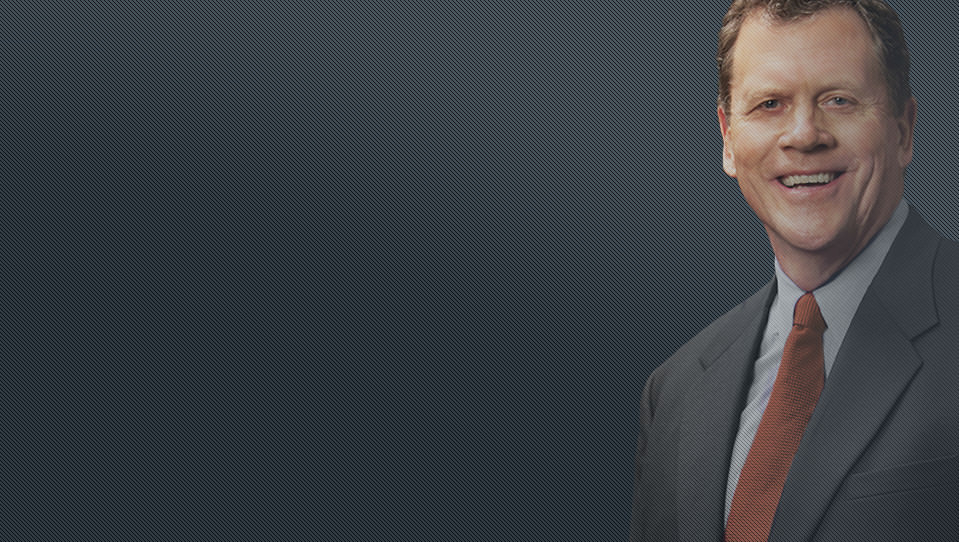 "With vAuto's Provision, our cars attract more customers."
Tom Kelley, Kelley Automotive Group