SEE EVERY STEP IN THE RECONDITIONING JOURNEY
Each additional day that one of your used vehicles sits in service or waits on a vendor, you lose out on profit. And multiple cars stalled in the process means multiple hits to your bottom line. By eliminating inefficiencies, iRecon helps you communicate with partners, reduce holding costs and get vehicles in front of customers sooner. Because the sooner they see them, the sooner you can sell them.
Use our ROI calculator to see how improvements to your reconditioning process can drive greater profits. ROI Calculator >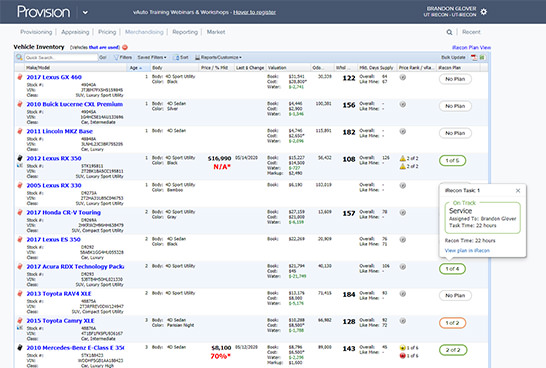 Integrate with Provision®
iRecon's integration with Provision allows dealers to closely monitor, update and execute the reconditioning process while leveraging vAuto's industry-leading data to make informed used car inventory management decisions. With appraisal photos and notes from Provision automatically inserted into iRecon, you gain additional insight early in the process, improving time to front line. Learn more on how iRecon enhances Provision here.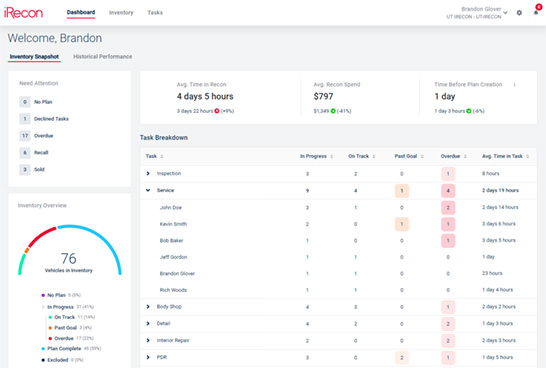 Know the status of every vehicle
Quickly view and act upon valuable reconditioning metrics in robust dashboards that can be customized to fit your dealership workflow. Real-time reconditioning reports and statistics on any car in your inventory help you track every vehicle at every touchpoint until reconditioning is complete.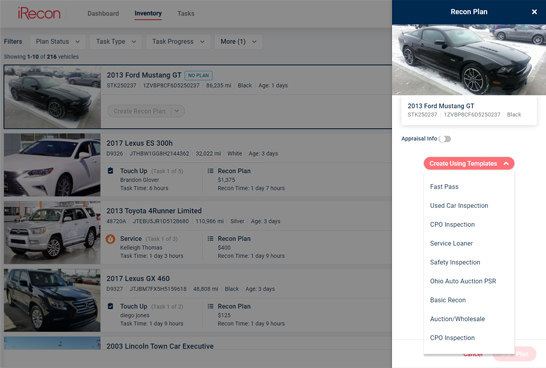 Start the process sooner
Build custom reconditioning plans with Quick Plan templates. In just two clicks, minimize the time it takes to get vehicle reconditioning started.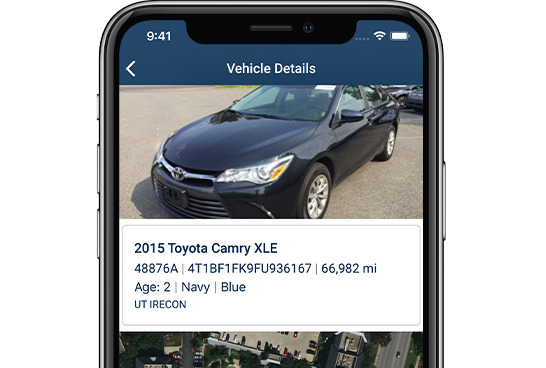 Manage from anywhere
Gain reconditioning efficiencies on the go with iRecon Mobile, enabling communication with reconditioning partners through push notifications and comment tagging. Send and receive photos to gain visual insight into the reconditioning process, using VIN scanning and location tracking to stay efficient from any device.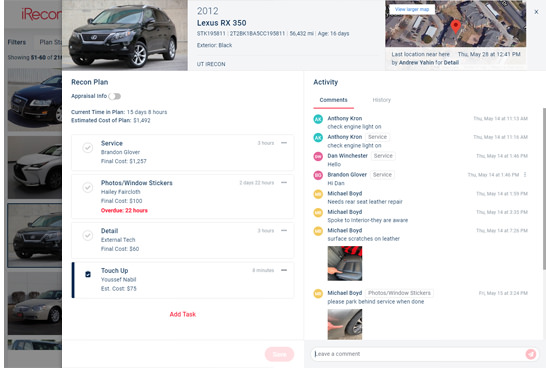 Track every vehicle's location
Greatly improve workflow and time savings by using GPS to locate physical vehicles on the lot.
Official partner of
Integration with Monroney Labels
OTHER FRANCHISE DEALERSHIP SOFTWARE
Conquest™: New car inventory management and pricing software.
Provision®: Used car inventory management and pricing software.
Stockwave: Wholesale vehicle sourcing software.