How Dealers Acquire Inventory from Service Customers
In a recent post, I highlighted how vehicles dealers acquire directly from service customers hold almost as much investment value potential as those they acquire off-lease and from trade-in.
The insight comes from ProfitTime GPS analytics that help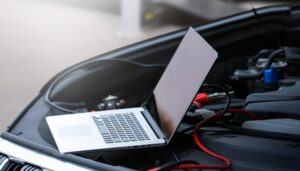 dealers understand the sourcing channels that perform best for them, and where they may find additional acquisition opportunities. In the post, I promised to share best practices from dealers who have turned service lane acquisitions into a reliable, steady source of inventory for their used vehicle departments and certified pre-owned (CPO) sales programs.
One of my first calls went to Brian Benstock, vice president of Paragon Honda and Paragon Acura in Woodside, New York. He is regarded as one of the nation's best CPO retailers. Among Honda and Acura dealers, Benstock leads everyone by a sizable margin in terms of CPO volume. He and his team repeated this achievement in 2021, marking more than a decade in the top CPO spots for both brands.
If you asked Benstock why his CPO sales have remained so strong, he'd point to his service lane, and the process he implemented coming out of the Great Recession in 2008 and 2009. The process aims to acquire current vehicles from service customers and sell them another one.
"It's why our CPO sales have remained so strong," Benstock says. "We go fishing in our database. It's a strategy that insulates you from the competition and it's an excellent strategy for vehicle acquisition."
For other dealers, the service lane remains a largely untapped opportunity for inventory acquisition. To help, I've distilled some of the best practices I gleaned from Benstock and other dealers:
Understand the opportunity. Benstock considers the acquisition/sale of a vehicle with service customers as the single-most valuable transaction that occurs in his stores. "It feeds every profit center in the dealership, new, used, parts, service and F&I, and it feeds a couple profit centers multiple times," he says. Benstock encourages dealers to determine the average value of the transaction for themselves to better understand the scope of their own service lane opportunity. Today, Benstock says the 10-person team that's dedicated to meeting with service customers to acquire/replace their vehicles creates a $120 million annual opportunity, factoring in the gross profit achieved across the departments as a result of the initial transactions.
Set the stage for the conversation. Benstock uses technology and tools to identify the customers who meet the store's definition of an "equity" position in their current vehicle. "Equity doesn't necessarily mean they owe less than the value of their vehicle," Benstock says. "For us, equity means you can take a customer out their current car and put them into a new car for a similar monthly payment. It's equity in terms of doing a payment walk." As customers who fit the definition schedule service, they are made aware of an "equity alert" opportunity that sets the stage for a discussion with the customer about their current vehicle and a replacement.
Steer clear of hard sells. Recent Cox Automotive surveys show that 15 percent of consumers say they've been presented a trade-in value during a dealership service visit, while 12 percent say they've traded/replaced their vehicle following the initial presentation. The stats match up to results I've heard anecdotally from dealers who pursue service lane acquisitions in earnest. They share that close rates on appraisal/trade-in conversations run between 10 percent and 20 percent. At Paragon, the team aims for acquiring/replacing vehicles from 10 percent of the roughly 10,000 customers they identify as equity-eligible every month. The survey data and close rate benchmarks underscore that while customers are often interested in hearing about their vehicle's value and a possible replacement, a smaller share will complete the deal. Hence, dealers say it's best to avoid a hard sell with your service customers. As Benstock says, "we have an obligation to let customers know about the opportunity. They don't have an obligation to do it, but if it makes sense for them, we want them to strongly consider it and know we'll make it easy."
Avoid sales/service conflicts. The most successful service lane acquisition programs share a common theme—they're set up to avoid conflicts between sales and service. An example: A service advisor has an RO underway, and sales works to acquire the vehicle while it's on the lift. When this occurs, dealers like Benstock advise that the service advisor needs to get credit for the RO—whether it's booked as customer pay or as part of an internal RO for reconditioning the vehicle post-acquisition. As Benstock explains, "this way, the house captures the work either way and the service advisor is not in competition with the sales-in-service team. The car needs the work, regardless of the status."
Dedicate resources to the effort. Some dealers set up and staff a "vehicle exchange" desk at/near the customer lounge; others rotate sales-in-service specialists to engage customers after advisors ask them if they're interested in knowing the value of their vehicle. The broader take-away: "If you aren't going to dedicate a team, you've got to dedicate hours," Benstock advises. "If you aren't all-in and committed, it won't work."
Through my conversations with dealers about service lane acquisitions, it's becoming increasingly clear that this sourcing channel holds opportunity for them to favorably acquire vehicles that they need for their used vehicle inventories and their CPO sales goals—especially given the constraints on new vehicle inventories, lease deals and trade-in volume nearly everyone expects to continue for some time.
Benstock believes his service lane acquisition strategy will serve as a profit replacement plan as market conditions normalize and potentially become more difficult with higher inflation and interest rates: "By being hyper-focused on the customers we have today, we'll be on our way to lessening the downside when it comes."
The post How Dealers Acquire Inventory from Service Customers appeared first on Dale Pollak.